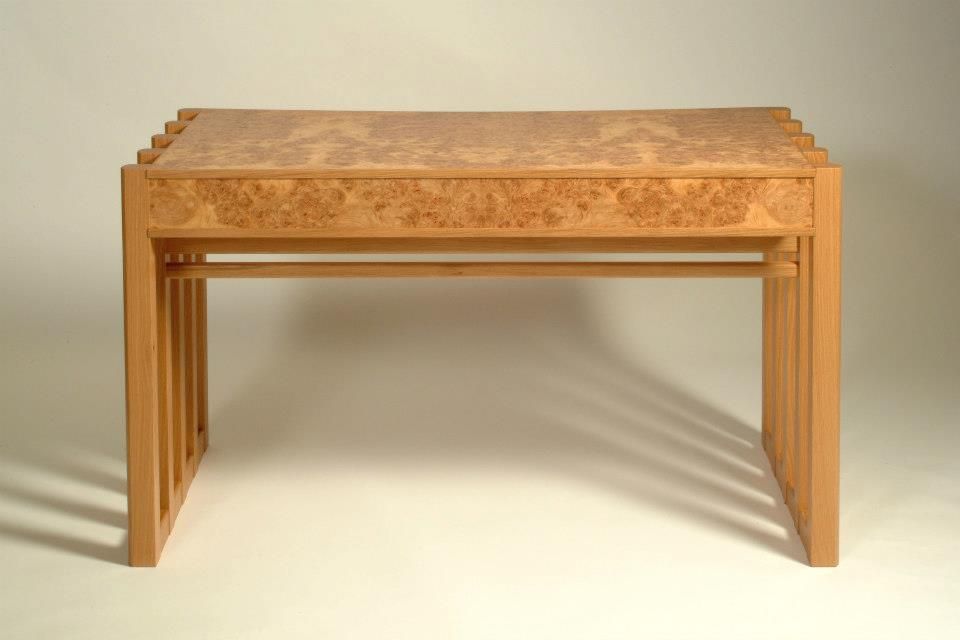 July 9th 2022. I thought I should mention Sam here, a young student who asked me for help with his woodworking project for school. He had to design an item for a client( in this case a bench for Abbotsbury gardens) and show an understanding of the design process and working with a client. He came to me with a completed design but wanted advice on timber selection and asked if I would machine it for him. This was all duly done and the finished bench can be seen below, well done Sam.
May 10th 2022. Here we go again with this years Dorset Arts Weeks running from 14th to the 29th of May. Check out the DAW app and see all of the artists taking part and when they will be open.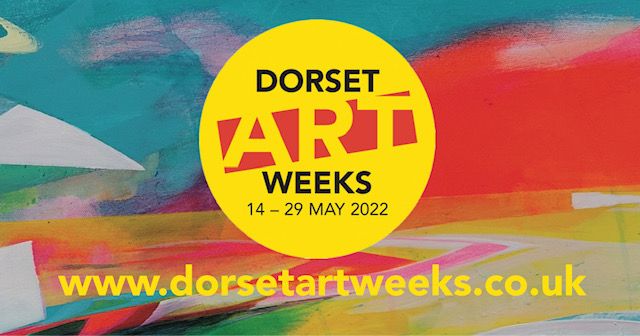 October 26th2021. I thought I would include these bookshelves in my blog, they are simple but very effective. The clean lines and contrast with natural ash against the black stained legs gives them a rather edgy contemporary look. Needless to say the new owners were delighted and sent this photo of the shelves in situ.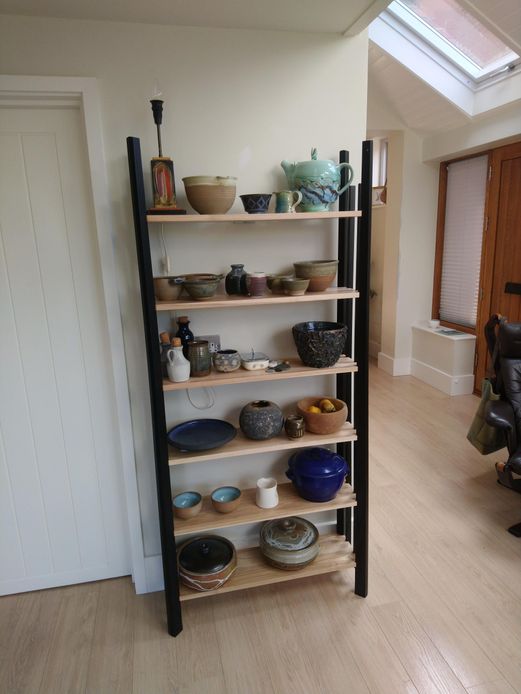 9th August 2021. Well, after a rather quiet (but successful Art Weeks) I've been busy making furniture for a customer in the Cotswolds. First, a pair of bedside tables then a TV cabinet followed by this console table and bench( below) with touch to open doors and a lined and divided drawer. Hopefully I'll have time to take some better photos before it is delivered. Next on my list is a computer desk in maple and stained ash.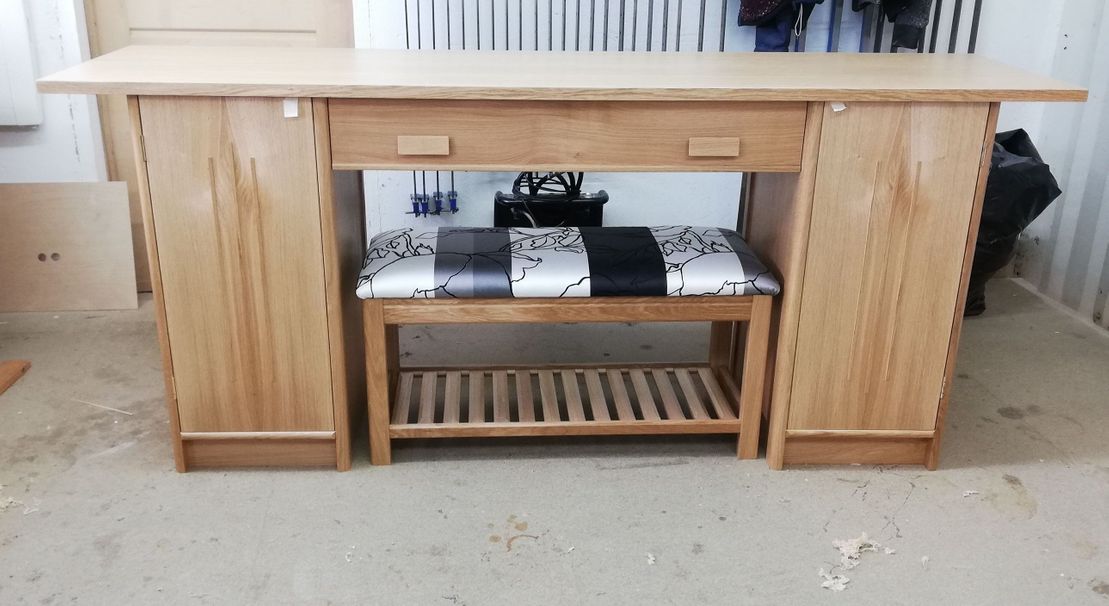 9th May 2021. Yes, it's that time of year again, Dorset Arts Weeks is here again from 22nd of May to 6th of June. During that time you can visit the homes and studios of artists and craftspeople all over Dorset. If you are interested they have created an app to help you plan your visit, just visit Dorset Art Weeks 2021 for more information.
25th April 2021....My latest project has been another unusual commission for a London client. This small console table made in oak has been quite an interesting build. The basic design came from the customer who liked the idea of a drawer that followed the shape of the table. The rounded drawer opens with a touch and is made using the same laminating technique that was used on the body. The table top is laminated with a layer of corian to compliment another piece of their furniture .
Following the two architects desks came two chairs to match, again in maple and quite ornate for me. Probably the biggest challenge was the chair back that tapered in thickness and curved to provide support for the back and the top of the panel became the top rail of the chair. Working closely with the client the design evolved over a two month period with many changes until we were both happy with the result. The chair was finally upholstered with a blue fabric to match the plan storage lining inside the desks.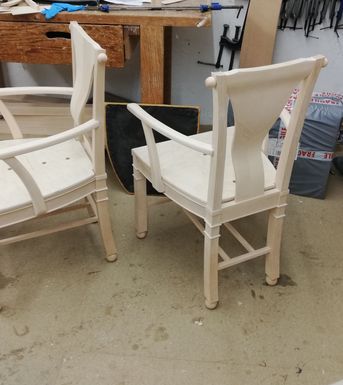 15.11.20
Coming to the end of my second desk build, this one is for the clients office. Virtually the same as the first but with a few minor changes to the features at the top of the legs and, in this case, the beading follows all the way around the desk to add interest as the desk will be viewed from all directions.
My next challenge is to make the chairs!
17.08.20
My latest project is a writing desk in maple for an architect in London. The desk features classical Greek detail on the legs and storage for A1 drawings with a lid stay that caused me many sleepless nights and as with all my other projects the drawers feature hand cut dovetails .
12/03/20
Delivery is always a joy, this morning I delivered four chairs to a client who had already commissioned a table and to see the chairs finally sitting around the table was really special. The chairs have laminated backs for extra back support and were designed for comfort, both table and chairs are made with solid American walnut and finished with acrylic lacquer.
11/03/20
I've never really enjoyed turning, I found it far better to ask local turners to do the work for me. They always achieved better results than I ever did and in half the time, but now, for better or for worse I've invested in a second hand copy lathe. This old Mini Max has been well used but appears to be sound and for what I paid for it a real bargain. This is how it arrived, covered in rust and looking very sad, I'm sure that with a few hours of cleaning and a squirt of oil it will be good as new (ish).